A Question Of Balance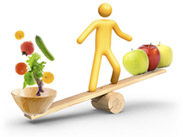 Every week we get a lot of feedback here at Wholly Macro. Lots and lots of emails with questions and comments about every even remotely food and health related subject under the sun, and we welcome and enjoy them all.

One of the all time winners is the age-old quandary of body weight.

"I am overweight. I am underweight. I can't lose weight. I can't gain weight. My weight, my weight, my weight".

I have written about the overweight dilemma many times and in many contexts. But I have not written quite as much about the issue of being underweight, and while the overweight among us may long for that problem, or not even see it is a problem at all, it is a problem, and a very real one at that. All weight issues are.

But the real question is, is it really a weight issue at all, or is it A Question Of Balance?

When I began pursuing a macrobiotically oriented healthy and balanced diet (in 1996) I was initially a bit overweight. (Yes, I ingested a lot of "junk" back then). But I also had cancer and was undergoing chemotherapy, which resulted in a serious loss of appetite, so I rapidly lost weight, alot of weight.

However, weight was not my concern back then, LIVING was. And as a friend so eloquently put it (back then), I was lucky I looked good thin! I never focused on the weight. I couldn't even think about my weight what with the giant elephant in the room called cancer! My main focus was always regaining my health. My balance. It still is.

Yet so many of us only focus on the weight.

I talk to people and read about people who are willing to eat literally anything "fattening" no matter the health consequences, in an attempt to gain weight. Similarly, I also hear from those who are afraid to eat anything in an attempt to lose weight. I have clients who order food from us within the same family, therefore basically eating the exact same thing, and one can't gain weight while the other can't lose.

How is this possible?

Weight is a somewhat complicated issue. And I say this next line over and over again. We don't live right. (Not necessarily those of us reading this newsletter, but rather the entire population in general). We don't remember how. Or we just can't fit living right into our day. We have so lost our way. So many of us are really out of touch with who we are, what we need, what and even when to eat, and how to live in harmony with our planet, ourselves, and each other. And yes, all of the above affects our weight.

Our emotional balance affects our physical weight.

We also don't exercise adequately. Almost all of us are guilty of this. Myself included. Our bodies were designed to move. To be used. They get rusty and parts break down from too little use, yet so many of us eat a meal and then sit for a few hours or more before either eating another meal, or going to bed. We must make time in our lives for movement, for exercise.

Exercise does not make us gain or lose weight any more than food does. Exercise simply tones the body. It strengthens not only the outer muscles, but the inners muscles and organs as well, namely the digestive muscles and adrenal glands. Oh, and the heart. Lets not forget the heart muscle, without which circulation would cease to exist.

Strong digestion, strong digestive muscles, and active circulation, are integral to proper appetite and weight regulation.

So are well-toned adrenal organs. Think thyroid. Think hormones.

A body will not work properly if the adrenal glands are clogged up with saturated fats, coated with stagnant fat rather than healthy tissue, or surrounded by weak musculature lacking in proper circulation.

The adrenal system and its glands are closely related to the emotions. So when I say above that we don't know how to live right, that we don't know how to take proper care of ourselves, and that this emotional imbalance, that this loss of intuitive ability to be in tune with our bodies, does have something to do with maintaining proper body weight, I hope you can see where I am coming from. BTW, yoga, tai chi, and chi gong are excellent ways to cleanse, tone, stimulate, heal, and balance the hard to reach adrenal organs.

Weak digestion and improperly functioning adrenals will lead to faulty metabolism.

And faulty metabolism will always affect body weight. Metabolism regulates weight.

If our bodies cannot regulate their weight properly we will remain out of balance, be it under or overweight.

Among the most important of the surefire fixes is the very food that we eat. Not the quantity, but the QUALITY!!

Whole grains are nature's natural metabolism repairers!

If you give your body the proper tools, it can establish it's own perfect balance.

The proper tools are healthy thought patterns, proper exercise, adequate rest, and in this case perhaps the most important of all: REAL food.

Dessert can be real food. Desserts such as Whole Oat Pudding with Tofu Whip Crème are real food, and guess what, these type of desserts are not fattening. Or unhealthy. They are grains, nature's metabolism repairers, and soybeans, with all of their health benefits.

If you eat the right amount of food, the right kind of food, and eat it at the right time, a shift in balance, also known as The Proper Weight, For You, will follow. The right amount of food is the amount of food you need to eat, based upon grains, beans, and vegetables, that fills you up comfortably, and holds you from meal to meal. This will vary from person to person.

Weight regulation is not a quick fix. It takes time. I changed my diet years ago and my body is still healing, adjusting, cleansing, and balancing. A friend recently asked me if I was losing weight. In a good way. That question was music to my ears, because remember, except for my brief interlude with cancer, I always tended to be a bit overweight. I thought about the question for a moment, remembering the many emails I receive on the subject, and my answer to him was, "I don't think I am gaining or losing, just balancing".

If you don't eat enough in an attempt to lose weight, you will nutritionally deplete / starve yourself. You can become seriously malnourished. A malnourished body cannot properly regulate its weight.

If you eat too much, especially of the wrong thing, you will overwhelm your organs. Overworked organs cannot function properly and therefore cannot maintain proper weight.

You cannot gain weight by over eating, as I am sure the underweight among you already know. And you cannot lose weight by under eating.

And furthermore, both approaches are detrimental to your health.

But if you consistently eat a healthy and balanced diet, your digestive system will strengthen, your adrenal glands will repair themselves, and your metabolism will once again begin to function properly. It did once you know. And when that happens, intuition will resume. Your grateful body will remember how to function, and will fall into it's own natural rhythm. It will then be able to properly maintain it's own ideal weight. In balance. The way it is supposed to be.

In the best of health to you as always.

Gayle and Jaime / Wholly Macro

*Private nutritional and educational natural lifestyle consultations are available for additional or more personalized information related to specific health conditions.


---