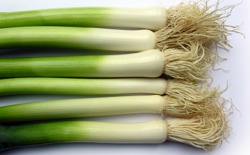 ---
WHITE BEAN AND ESCAROLE MISO SOUP
Nice and light, yet high in protein and substantially filling white beans, are cooked with digestion promoting and mineral rich kombu sea vegetable, and a fresh and colorful array of vegetables: bright orange beta carotene rich carrots, naturally diuretic celery, flavorful yellow onions, the unique flavor and crunch of fresh fennel, the vitalizing energy of fresh green leek, cleansing and relaxing shiitake mushrooms, wakame sea vegetable, enzyme rich yellow miso, lots of iron rich good for the liver bitter green escarole, and a garnish of deep purple equally iron rich dulse sea vegetable.
BROWN RICE, HATO MUGI, AND FRESH GOMASHIO

Balanced and nutritious medium grain brown rice, is cooked with the wild grain hato mugi, a whole grain valued in the orient for its ability to calm the nervous system and cleanse the blood. An excellent grain for "spring cleaning" the body! Lotus seeds, valued in the orient for their ability to increase strength and vitality, are added, along with powerfully mineralized kombu sea vegetable, vitamin E rich toasted sunflower seeds, good for the stomach and pancreas sweet yellow onions, high in calcium cell cleansing fresh sesame gomashio, and plenty of chlorophyll rich fresh green parsley.
BAKED TOFU WITH KOMBU LEEK SAUCE
Delicious high protein, low fat pieces of tofu, are baked to nice brown flavorful perfection, then draped with a sauce of brightly sautéed liver cleansing leek, slivers of naturally chelating kombu sea vegetable, good for the stomach and pancreas yellow onions and green cabbage, and circulation stimulating fresh ginger cooked in their natural juices, then thickened with digestion and intestine strengthening, alkalizing kuzu root.
VEGETABLE SPRING ROLLS WITH UMEBOSHI GINGER GLAZE

Chinese cabbage, green cabbage, red cabbage, carrots, yellow onions, and celery, are stir fried with circulation promoting fresh ginger root, then further livened up with enzyme rich fresh bean sprouts, wrapped in sprouted wheat berry pastries, and glazed with a tart and alkalizing umeboshi plum, sweet and satisfying brown rice syrup, mustard, and shoyu glaze, to create the delicious and healthy non-fried Wholly Macro signature spring roll. Finished with fresh chives.
BUCKWHEAT AND BOWTIES
Whole buckwheat groats, known for their strengthening quality, are tossed with light, nutritious, and fun to eat brown rice bowtie noodles, sauteed shiitake and cremini mushrooms and yellow onions, fresh, alkalizing and digestion promoting umeboshi plum marinated red radishes, intestinal bacteria friendly pickled cucumbers, vitamin E rich toasted sunflower seeds, and lots of fresh green chlorophyll rich parsley.
PEACH BERRY FRUIT COBBLER
A magnificent palette of just bursting with summer ripeness deep orange peaches, plump and juicy blue-purple blueberries, magenta pink red raspberries, fresh orange zest, alkalizing and intestine/digestion strengthening kuzu root thickener, and brown rice syrup, topped with a mixture of rolled oats, vitamin E rich sunflower seeds, calcium rich almonds, omega three rich walnuts, and a hint of cinnamon and vanilla.
VIRTUALLY ALL INGREDIENTS ARE ORGANIC
CLICK HERE FOR MORE SPRING SAMPLE MENUS
.