About Health, About Food, About Macrobiotics,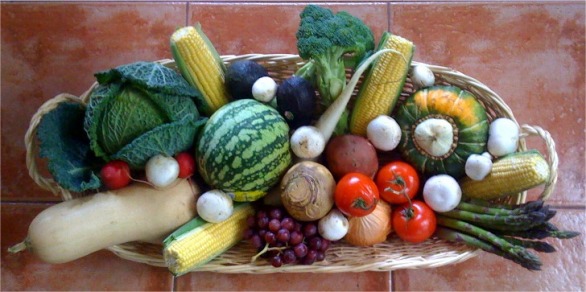 And About Balance




Eye opening statistics about cancer: "Sixty Percent of all cancers in the United States are caused by the food that we eat. Thirty percent are caused by smoking. Five percent are due to viruses, and a mere two to three percent are from genetic factors". The Physicians Committee For Responsible Medicine.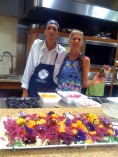 By now you may have read about the various
services
that Wholly Macro provides on our
home page
or under services.
There is a lot of talk about food on this website, isn't there? Hungry yet?!
And a lot of talk about Oriental Medicine too.
But what does it all mean for you, and what does it have to do with health you might ask?
---
Food
is
health. Let me re-phrase that.
The right food creates health. The wrong food creates illness.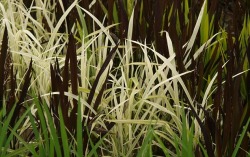 Plants, plant foods, are our friends and our most powerful allies. Plants are the most amazing creatures. They live on the planet, among us, and survive by waving their stalks and limbs gently in the breeze, taking in oxygen, sunlight, water, and soil, and transmuting those energy sources into useable food for us humans to live on. Without plants we could not survive. We couldn't survive on animal foods, because most animals live on plants. The few who live on other animals would not be able to survive without eating the animals that depend on plants. And the animals that live on plant foods couldn't survive without the plants. We all ultimately depend on plant foods.
Plant foods give us the most direct source of living food energy when eaten as close to their natural state as possible. Live plant foods have the ability to sprout back to life and grow once again into the plants we take them from. In other words, the grain of brown rice that we eat is one and the same as the seed we plant to grow a rice plant. It is a whole grain, and has not been processed in any manner that would render it lifeless, that is, without the ability to once again come to life. Bean sprouts are sprouted from the very same beans that we cook and eat. These are whole living foods that will become a bean plant and produce more beans. The onions and carrots that we store in the refrigerator are so full of life, and energy, and vitality, that they often times sprout and grow even while refrigerated.
This is the food that we want to eat. This is the food that can give our human bodies the utmost energy and vitality that we can possibly gain from food, translating into the utmost health. Without our health, we really have nothing. Health is our greatest wealth.
If we don't keep our bodies healthy, where are we going to live? And if we don't keep our planet healthy, where, and on what, will our bodies live? It is a full circle.
Animals provide us with second hand energy. They reap the benefits of the plants initial energy. If most of our diet is based on animal foods, we are getting used energy, and can't possibly have as much energy and vitality as we would have if we ate a diet based on living plant foods.
There are many multitudes of plant foods available on this planet, from multitudes of cultures. And we like to use them all, appropriately. The many nutrients contained in plants have yet to all be discovered. There is not a human or computer on this planet that knows all of the nutrients contained in plant foods. New ones are being discovered daily, with all sorts of new and better health benefits. Variety is key. We must eat a wide variety of plant foods to insure that we get all of the known and unknown nutrients into our bodies, to reap the most human benefit from our plant friends.
At Wholly Macro, we borrow from the ancient and well founded science of Oriental Medicine as a model, to guide us in eating a wide variety of the healthiest foods on the planet, prepared in tried and true, well founded, well documented methods of preparation. Macrobiotics is the in depth food component of Oriental Medicine.
We use the colorful mandala at the top of each of our web pages, inspired by the
Five Element Theory of Oriental Medicine
, to guide us, in our cooking and our teachings. An understanding of the energy of food plays a vital role in creating health, harmony, and balance in our human bodies.
Via the Five Element Model, we are able to look at the whole person, and their environment, and apply that to the way food is chosen, the way it is prepared, the way it is consumed, and the impact this has on the type of energy we want and need the body to produce in order to reside in a state of well being.
---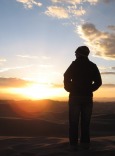 In order to reach our utmost health potential, no matter what health challenges we are living with, we need to eat and live in tune with the seasons. It is the natural order of the universe to live in harmony with the planet, going with the flow, not against it. We can do this in many of our daily activities, but we need to do this primarily through our diet. As the seasons change, the food that we select to cook with, and the very cooking methods themselves, change also. In this way, we protect our valuable and essential organs and their functions. Organs and functions that are associated with each season. And even so, as we especially focus on the organs related to our current season, we also want to continue to include the foods that strengthen and protect the organs and systems associated with the other seasons of the year as well.
---
Here is a brief rundown of some of the foods that are especially good for a particular season / organ. I think you will find that we teach about them, and use them all, and more in the Wholly Macro kitchen.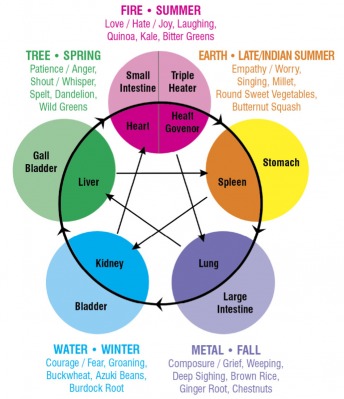 Lets start with FALL, which relates to the lungs and large intestine. You want to be sure to eat brown rice, fresh ginger root, small white beans, yellow soybeans, shallow root vegetables such as rutabaga and turnip, and tree fruit such as apples and pears
.
Going into WINTER/kidney and bladder organs, you want to include azuki and black beans, they are the best for the kidneys, deep root vegetables such as burdock root and some dried daikon, and dried fruit such as cranberries.
Of course we are still going to eat foods from the SPRING/liver and gallbladder season such as wild greens like dandelion, arugula, rappini, leek, chives, and scallions, grains such as barley, spelt, and oats, and fermented bean foods such as tofu and tempeh. Small sour fruits such as berries and loquats are especially good for the liver in the spring, and you will find them in season this time of
year.
Moving into SUMMER/heart and small intestine organs, we eat large leafy greens such as kale, collard greens, and mustard greens, quick cooking lighter grains such as quinoa and corn, and large beans such as lima and kidney beans.
And then we have late summer, related to the stomach and spleen / pancreas. LATE SUMMER involves round naturally sweet plant foods such as millet, cabbages, broccoli and cauliflower, and sweet vegetables like onions, kabocha and butternut squash, and fruit like peaches that just ooze Indian summer.
Another way to look at this is to break it down by foods good for the different systems in our body such as the circulatory system which needs foods that are high in fiber, omega fatty acids, unsaturated oils, and Vitamin C such as apples, flax seeds, nuts and seeds, lentils, and whole grains. The skeletal system which needs foods high in calcium, vitamin D, vitamin K, potassium, magnesium, and protein. Foods such as broccoli, leafy greens, fish, tofu, and nuts fill this need. Then there is the digestive system which needs foods high in fiber, vitamin C, flavonoids, and probiotics such as apples, beans, cabbage, cranberries, flax seeds, sweet potatoes, miso, natural pickles, and whole grains. And not to forget the immune system, particularly important during Fall and Winter. The immune system loves vitamin C, vitamin E, zinc, and all plant based phytonutrients such as carotenoids. found in beans, broccoli and cabbage, carrots, citrus, and whole grains. And last but far from least, the nervous system, which thrives on vitamins and minerals, and omega fatty acids, found in foods like brussel sprouts, butternut squash, kale, sweet potatoes, peas, nuts, and seeds.

Overwhelming?? It is a lot to manage on a daily basis, which is why we just love providing you with the knowledge of what you need to eat and how to prepare it via our
Health Consultations
and Cooking Classes
, or the actual superstar foods themselves, in the flesh, via our Prepared Food Meal Delivery Service
, or Personal Chef Services
available just for you here at Wholly Macro.
By allowing Wholly Macro to cook for you, or teach you how to cook, you can relax in knowing that you are providing your body with all of the essentials it needs for good health, because no matter how you look at it, one thing is perfectly clear, healthy plant based foods are essential for good health, and one way or another, you have to get them into your body.
---
| | |
| --- | --- |
| "Health (and Macrobiotics), amount to finding our physical limitations and living within them. This is the cultivation of humbleness. When we think that we can do anything we want, we become arrogant. This arrogance causes sickness. When we are living within our physical limitations, then our spirituality is free. Health, (and what macrobiotics seeks), is freedom in spirit. Freedom exists in our spirits so that we can think anything. Biologically, physiologically, we are unfree. We can wish to eat anything we want, be we cannot do it (without consequences). Disciplining physical unfreedom is the foundation of spiritual freedom. God didn't give us unlimited biological freedom, but appreciating and taking into consideration our unfree physical conditin leads us to infinite spiritual freedom." | |
You
can read a lot more about specific health related topics or about specific foods in the Wholly Macro Newsletter
archives
. You can also sign up to receive our exciting and informative weekly newsletter by clicking the link below
. The newsletters include our
Weekly Prepared Food
Delivery
Service

Menu
s. And even if you don't live in our delivery range, or prefer to cook for yourself, the newsletters are very educational, and can inspire you to create all sorts of gastronomical delights in your own kitchen.