Personal Chef Services and Catering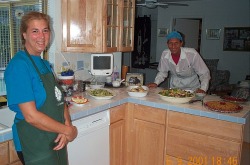 Recommended for special occasions, dinner parties, or special diets. In addition to, or in place of our weekly delivery service.
Do you have special dietary needs, or a desire to have a private chef prepare your meals for you? Do you want to have an all natural healthy dinner party? Wholly Macro can accommodate any type of private cooking needs that you may have.
Treat yourself to our personal chef services. We also specialize in delicious and nutritious special occasion dessert cakes for birthdays. anniversaries and other special occasions in your life.
FOR OUR PRICE LIST PLEASE
CLICK HERE
For more information about our Chef Services and Catering please see our
FAQ'S
page