Pasta with Pumpkin Seed Pesto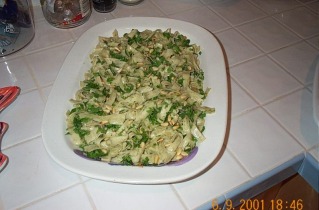 THIS IS A SIMPLE, TASTY, ELEGANT, AND HEALTHY VERSION OF TRADITIONAL PASTA WITH PESTO. THE YELLOW MISO GIVES THE PESTO SAUCE A RICH, "CHEESY" FLAVOR AND TEXTURE, WHILE IMPARTING THE HEALTHY LIVE ENZYMATIC QUALITIES OF THE MISO. THE PUMPKIN SEEDS ARE FULL OF MINERALS AND ARE A NATURAL SOURCE OF OMEGA FATTY ACIDS. THE PARSLEY IS FULL OF CHLOROPHYLL, NURTURING RED BLOOD CELLS WITH OXYGEN AND IRON, AND WHOLE GRAIN ORGANIC PASTA OFFERS LIGHTNESS AND VARIETY FROM YOUR EVERYDAY INTAKE OF WHOLE GRAINS THEMSELVES.


THE PUMPKIN SEEDS CAN BE SUBSTITUTED WITH WALNUTS OR PINE NUTS FOR VARIETY. ORGANIC OLIVES, FRESH BROCCOLI, SHIITAKE MUSHROOMS, OR SUN DRIED TOMATOES ARE JUST A FEW ADDITONAL INGREDIENTS THAT CAN BE ADDED TO CREATE A SLIGHTLY DIFFERENT TWIST ON THIS DISH.


WHY WOULD ANYONE USE HIGH FAT, HIGH CHOLESTEROL, HIGH SODIUM, HEAVY CREAM AND REAL CHEESE IN THIS DISH, WHEN THIS DELICIOUS OPTION IS AVAILABLE???!!!


---
INGREDIENTS
1 CUP RAW, SHELLED, ORGANIC PUMPKIN SEEDS
¼ CUP ORGANIC, UN-PASTEURIZED YELLOW MISO PASTE
4 CLOVES RAW ORGANIC GARLIC, PEELED
1 CUP FRESH ORGANIC PARSLEY - CHOPPED
2 CUPS FRESH BASIL - CHOPPED
½ CUP FIRST COLD PRESSED, ORGANIC, EXTRA VIRGIN OLIVE OIL
½ CUP "EDEN BLEND" RICE AND SOY MILK BLEND
16 OUNCES ORGANIC WHOLE GRAIN PASTA OF CHOICE (FETTUCCINE, ANGEL HAIR, SHELLS, ETC.)
PREPARATION
DRY PAN ROAST THE PUMPKIN SEEDS OVER LOW HEAT UNTIL LIGHTLY BROWNED AND FRAGRANT (THEY WILL POP AND PUFF UP)
SET ABOUT ¼ OF THEM ASIDE TO USE LATER AS GARNISH, AND PLACE THE REST OF THEM INTO A FOOD PROCESSOR AND BLEND UNTIL THEY ARE COARSELY GROUND
TAKE ONE TABLESPOON OF CHOPPED PARSLEY, AND ONE TABLESPOON OF CHOPPED BASIL, AND SET ASIDE, THEN
ADD THE MISO, REMAINING PARSLEY, GARLIC, AND REMAINING BASIL TO THE FOOD PROCESSOR, AND PULSE WITH THE PUMPKIN SEEDS
ADD THE OLIVE OIL AND PULSE AGAIN
SLOWLY ADD THE EDEN BLEND TO REACH DESIRED CONSISTENCY. THE PESTO SAUCE CAN BE COARSE AND "NUTTY",

(USE LESS EDEN BLEND AND BLEND LESS), OR IT CAN BE CREAMY AND SMOOTH, (USE MORE EDEN BLEND AND BLEND MORE)
WHEN SAUCE IS READY, PREPARE PASTA ACCORDING TO PACKAGE DIRECTIONS, AND DRAIN WELL
GENTLY TOSS PESTO SAUCE INTO COOKED PASTA, AND GARNISH WITH REMAINING PUMPKIN SEEDS, PARSLEY, AND BASIL