Gayle's Journey Through Cancer Story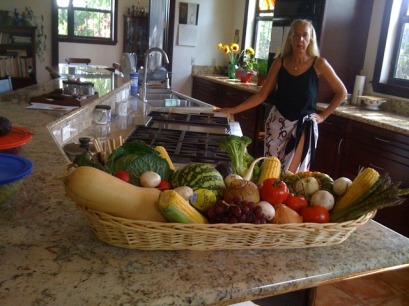 Gayle Stolove discovered a prominent lump in the upper and outer portion of her left breast in 1994 and didn't have it checked. She was 37 years old. Her grandmother died of breast cancer at a young age so when she first felt the lump she knew what it was. Consumed by fear, she so desperately wanted for it not to be cancer and subsequently lived in denial for two years. Finally, by July of 1996, when she could no longer face seeing the skin around the lump on her breast start to pucker and wrinkle anymore, she went to see a surgeon.

Right away the surgeon announced that she had "very advanced breast cancer", and recommended immediate bilateral mastectomy. The tumor was so large and the skin changes so obvious that he did not need to confirm what he saw in order to know what needed to be done. A biopsy later verified his diagnosis. Gayle walked out of that Doctors office terrified yet on her way to becoming a changed person.

Instead of the recommended double-mastectomy Gayle opted for a lumpectomy and axillary lymph node dissection in order to spare her breast. The surgery revealed that the cancer had spread to 12 axillary lymph nodes, which resulted in the grim prognosis that she had only six months to one year to live and that she needed a stem cell transplant immediately. She chose not to have the stem cell transplant and instead underwent nine months of chemotherapy, six weeks of radiation, and a reduced duration of the prescribed amount of Tamoxifen that Michio Kushi insisted be reduced.

During this time Gayle also fully embraced the macrobiotic approach. In the past she met two individuals who healed their cancers with macrobiotics. She made a mental note that if she ever got cancer she would do the same and so, on the day of her cancer diagnosis, she committed to follow macrobiotics. Gayle switched to eating whole and natural macrobiotic foods and it changed her completely. Her mind became clearer, her body began to heal and everyone said she looked "great". Now at 54 years old, she is totally cancer free and on no medications at all. Gayle has never felt better in her life, both physically and emotionally. She still, and always will, embrace the macrobiotic diet and lifestyle.


Click here for a more complete and detailed story of Gayle's life and cancer experience!

Gayle Stolove holds a Bachelor of Science degree, is a Registered Nurse, Licensed Massage Therapist, Natural Foods Chef, macrobiotic teacher and counselor. She lives in Fort Lauderdale, Florida, and spends her days, (and nights, weekends, and holidays), teaching others how to shop, cook, eat, and live, the macrobiotic way.
She owns and operates Wholly Macro, a natural food and lifestyle company, offering macrobiotic based meal delivery programs, private chef services, cooking classes, natural lifestyle health consultations based on the ancient art of oriental diagnosis, and catering for all occasions. She is a cancer specialist.
She has lectured at various Universities, appeared on the local broadcast of ABC news HealthWatch, cooked privately for visiting macrobiotic celebrities, has taught natural foods cooking classes at various cancer research and support centers on a volunteer basis, and presented macrobiotic cooking classes and lectures for various companies including Whole Foods Market.
She is the South Florida hostess for visiting macrobiotic counselors. She also holds macrobiotic seminars and programs designed to enlighten and inspire others to live healthier macrobiotic lives
.
---