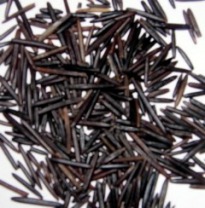 ---
Wild Rice Pilaf
3/4

cup medium grain brown rice
1/4

cup wild rice
1/2

cup finely chopped parsley
2

stalks diced celery
1

medium yellow onion, diced
1/4

cup peas, fresh or frozen
1/4

cup corn kernels
1/4

cup roasted pecan halves
1/4

cup roasted pumpkin seeds and/or 1/4 cup roasted pine nuts
1 organic apple, diced
1/2 cup dried cranberries, unsweetened
1 inch dry kombu
Zest and juice of one organic orange
Shoyu
1

tablespoon unrefined, raw sesame oil
2 cups spring water
Follow recipe for basic brown rice, or rinse brown and wild rice well, cover with water, and let soak for 6-8 hours, then:
Cut piece of kombu into fine slices and add to rice and water.
Cook over low heat, for one hour, until water is absorbed.
When rice is cooked, remove from cooking pot, to large bowl.
Toss gently with chopsticks and let cool. Do not stir rice.
In separate bowl, place parsley, apple, cranberries, orange juice, and orange zest. Be sure to only use orange part of skin when zesting orange.
Dry roast pecans and add to that bowl.
Dry roast pumpkin seeds and/or pine nuts and add to mixture.
Add one tablespoon of sesame oil to frying

pan and heat over medium heat.
Add onions, celery, peas, and

corn, in that order, sauteing each for about 2 minutes, and

adding a splash of shoyu between each ingredient.
Saute all for about 5 minutes, and then add to rest of fruit and

nut mixture in bowl.
Mix ingredients well , then add to bowl of cooled rice, and gently toss with chopsticks, until well mixed.