Oriental Pasta Stir-Fry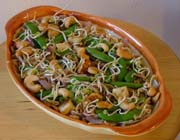 This carefully thought out recipe presents a beautiful and colorful whole grain pasta, protein rich tofu, and abundant fresh vegetable healthy meal~ in~ one dish creation, that can be whipped up quickly for an impromptu get together, or presented proudly at the most elite of functions!

Either way, you can be assured that you are eating the utmost in quality, low fat ~low cholesterol nutrition and balance, creatively presented using a wide variety of macrobitically inspired healthy super foods!
The whole grain udon noodles provide slow burning complex carbohydrate energy. The tofu is an excellent source of low fat calcium and omega fatty acid rich protein. The umeboshi plum is alkalizing and good for the digestive system. The shiitake mushrooms are truly a super food, showing promising results in strengthening the immune system, cleansing the blood, and lowering blood pressure and cholesterol, and the fresh sprouts are full of live food energy.
---
Oriental Pasta Stir-Fry
2 eight ounce packages of udon noodles, broken in half, cooked, and drained, or any spaghetti style noodle of choice
1

cup snow or snap peas whole
1/2

cup dried and soaked, or 2 cups fresh shitake mushrooms,

sliced
1 quart cremini mushrooms, sliced
1/2

cup red onions, cut into thin rings
1/4

cup dried lotus root, soaked and drained,or 1/2cup fresh lotus root, sliced in thin rounds
1/4

cup scallions sliced on the diagonal
1

tablespoon ginger juice (grate ginger and squeeze juice into a bowl.
The grated ginger, diced ~ about 2 tablespoons
Shoyu
Sea salt
Regular sesame oil
1 tablespoon toasted sesame oil
1

cup roasted whole cashews
2

cloves

garlic,

minced (optional)
1 package extra firm tofu, drained, then cubed
2 cups mung bean or sunflower sprouts, raw. They will become lightly blanched when added to the fresh, warm ingredients
Coat a cast iron frying pan with sesame oil and heat until warm. Medium to low heat.
Add cubed tofu, brown well on first side. Do not try to turn until it is well browned, slides easily in pan, and no longer sticks to pan. Brown all sides, add a pinch of salt, then remove from pan.
Add lotus root and saute until lightly browned and crispy, add a pinch of salt, then remove from pan.
Then add garlic and saute until lightly browned. Add a pinch of salt, then remove from pan.
Repeat with the ginger. Be sure to squeeze (and save) the juice first.
Add a splash of

shoyu,

and then add the mushrooms, and saute lightly

for 10 minutes. Remove from pan.
Add another splash of shoyu, add ½ cup of water to pan, bring to simmer, then drop snow or snap peas in, and blanch for a few minutes until they turn bright green. Remove from pan. Do not over cook them!
Repeat, adding red onion rings, then drain the onion rings and sprinkle with umeboshi vinegar and let marinate for several minutes until they absorb the color of the vinegar.
Gently toss the toasted sesame oil, ginger juice, and a pinch of salt into the udon noodles. Then spread the udon noodles on a large flat platter, and artfully asemble the cooked ingredients, cashews, and sprouts.
Garnish with scallions and serve.
Serves 6 generous servings
T