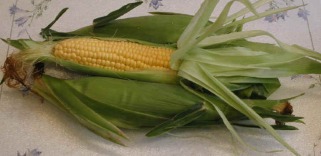 ---


CORNUCOPIA VEGETABLE MISO CHOWDER
A light yet hardy array of fresh and colorful dices of bright yellow corn, green peas, leek, cauliflower, yellow onion, graceful pasta like spaghetti squash, beta carotene rich bright orange carrots, and naturally diuretic crisp celery, in a mineral rich red lentil base, with a kombu, wakame sea vegatable, cleansing and relaxing shiitake mushroom enzyme rich barley miso, deeply purple high iron dulse sea vegatable, and circulation promoting fresh giner root broth, garnished with delicate green scallions and fragrant chive flowers.
SEITAN AND VEGETABLE FRIED RICE
Energy promoting medium grain brown rice is cooked with mineral rich kombu sea vegetable, then artistically assembled with stir fried cremini mushrooms, protein rich morsels of seitan, crispy green snow pea pods, good for the stomach and pancreas naturally sweet yellow onions, enzyme rich bean sprouts, red blood cell building parsley, fresh ginger, and shoyu soy sauce. Always a favorite!

BLACK EYED PEAS MARINARA
A pleasing combination that we stumbled upon here in the Wholly Macro kitchen, rich and flavorful mineral and protein rich black eyed peas, additionally mineral enhanced and made more digestive by the presence of kombu sea vegatable, are tossed in a beta carotene rich butternut squash, carrot and yellow onion "marinara" sauce, that is lightly garnished with seansonal fresh zucchini, and a glitter of fresh green chives.


TOFU, CORN, AND ONION SOUFFLE
Who says you can't eat soufflé anymore if macrobiotic??? This light as a feather yet packed with nutrition soufflé beats the unhealthy traditional version anytime!! Naturally sweet, and relaxing and nourishing for the stomach, spleen, and pancreas yellow onions, red onions, shallots, and leek, and sweet, cooling, crunchy, and delicious fresh yellow corn, are baked with a totally low fat yet rich tasting, high protein and high calcium tofu and tahini mixture flavored with the tanginess of alkalizing and digestive yellow miso and umeboshi plums, and fresh dill, and garnished with fresh from the garden chlorophyll rich green chives.

SHISO AND DULSE PICKLED SNAP PEAS , CAULIFLOWER AND RED RADISH

Crisp and sweet snap peas, good for the stomach and spleen/pancreas cauliflower, naturally diuretic red radish, enzyme rich pickled cucumbers, and high in iron shiso, a tradiditional Japanese pickling "vegetable", are lightly marinated (pickled) in brown rice vinegar, umeboshi plum, and shoyu, then sprinkled with iron rich dulse sea vegetable, to create this healthy, flavorful and satisfying unique vegetable dish.

BLUEBERRY PEACH COBBLER
A magnificent palette of height of the summer, just bursting with ripeness deep orange peaches, plump and juicy blue-purple blueberries, fresh orange zest, alkalizing and intestine strengthening kuzu root thickener, and brown rice syrup, topped with a mixture of rolled oats, vitamin E rich sunflower seeds, calcium rich almonds, just plain rich walnuts, and a hint of cinnamon and vanilla.
VIRTUALLY ALL INGREDIENTS ARE ORGANIC
Click here for more Summer Sample Menus