ORDERING DETAILS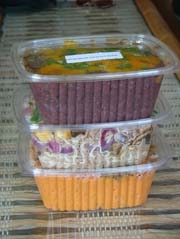 The small size is one half quart, and the large size is one quart. Orders are automatically delivered, unless special arrangements are made for pick-ups.




Small containers....................................................................................$12.50
Large containers................................................................................... $25.00
Delivery
(includes shipping and handling)
............................................... $15.00
available to most areas, but can vary depending on location and type of delivery service requested.
Please call with unusual circumstances or special arrangements.

Payments for orders are not required before each order is filled, but must be received before the next delivery date, unless other arrangements are made with Wholly Macro. Monthly payment plans are made available for regular clients upon receipt of the final bill each month. Intermittent clients are asked to pay on a weekly basis. De
livery orders can be paid by check, and mailed to

Gayle Stolove, 2021 SE 26 Ave, Ft. Lauderdale, FL 33316.

Do not pay

delivery service personnel

.
ORDERS
ORDERS MUST BE PLACED BY NOON ON MONDAY'S!
Menus will be sent via the Weekly Newsletter Saturday night.ORDERS MUST BE PLACED BY NOON ON MONDAYS,

PLEASE.

IF YOU ARE ORDERING LATE, ALWAYS FAX (954-763-6698) OR CALL IN THE ORDER, AS ONCE COOKING COMMENCES, EMAIL IS NOT ALWAYS CHECKED. We will do our best to accommodate late orders.

Food will be delivered Wednesday afternoons.


All orders are confirmed by Wholly Macro by the end of the day on

Monday

.
If your order is not confirmed, we didn't get it!
Please re-submit your order either by phone (954-764-6371, fax 954-763-6698), or e-mail whollymacrogayle@gmail.com to assure delivery for that week.

DELIVERY
Please advise security personnel, if applicable, that you are expecting a delivery from Gayle Stolove, via South Florida Courier Service.


Your food will be delivered between approximately 1:00 and 6:00 PM on Wednesday. The delivery may run later, due to weather or traffic.

If the package has not arrived by 5:00 PM, please leave a message via Wholly Macro's voice mail,
954.764.6371
to allow time for Wholly Macro to look into the situation.
"Missing" or late deliveries must be brought to Wholly Macro's attention by 5pm, or we cannot assume responsibility for having them delivered that day.


If you feel that the 5 PM deadline will be a problem for you, please call Wholly Macro for an alternative delivery plan.





For delivery

, PLEASE COMPLETE THE DELIVERY QUESTIONNAIRE, indicate ALL DELIVERY DETAILS, or call with: your address, including city, zip code and closest intersection to your home. Include detailed instructions regarding security guards or gates, where package should be left if you are not at home, etc. (options include: with lobby security, with concierge, at front door, etc.).


Wholly Macro only assumes responsibility for problems related to delivery or contents of delivery that is brought to our attention at time of delivery.