Carob Raspberry Almond Torte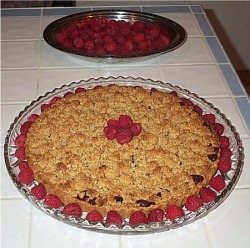 This is the most amazing and decadent tasting dessert, yet entirely healthy, and nutrient dense. It makes a beautiful presentation, and can be garnished with additional pieces of the selected fruit. Any fresh or seasonal fruit can be substituted. Try it with dried apricots!

---
Carob Raspberry Almond Torte
Ingredients:
1 cup roasted almonds

1 cup roasted oat flakes
1 ½ cups whole wheat pastry flour

pinch sea salt
1 teaspoon almond extract
1 teaspoon vanilla extract
½ cup unrefined sunflower oil
¼ cup maple syrup
¼ cup brown rice syrup
1 tablespoon baking powder
2 cups grain sweetened~dairy free carob chips
2 cups fresh raspberries
16 ounces fruit juice sweetened cherry or raspberry jam
Utensils:
11 inch torte pan
2 large mixing bowls
food processor
large spoon
Preparation:
Pre-heat oven to 350 degrees
Place the almonds and oats in separate pans, and dry roast on stove over low heat until browned
Blend the nuts to a flour in a blender and place in a large bowl
repeat with the oat flakes
Mix the nuts, oats, flour, salt and baking powder together well
In a separate bowl, mix the oil, syrups, vanilla, and almond extracts well
Add the wet ingredients to the dry, and mix well to form a dough
Press two thirds into the 11 inch torte pan
Spread the jam over the top
Sprinkle carob chips over the jam
Place the whole raspberries over the jam and carob chips
Crumble the remaining dough over the top
Bake in the oven for 30 minutes
Let cool
Remove from pan to serving platter
Cut into pie shaped wedges to serve
*The carob chips can be omitted, and the raspberries can be substituted with any fruit of choice, such as apricots, blueberries, peaches or strawberries.