Here is what some of our clients
have said about:

PRIVATE COOKING CLASSES

....."Hi Gayle, I have been meaning to email you and 'thank you' - for the wonderful time my mother and I had when we came for our cooking class and consult earlier this month. I have been out and bought the filters for our showers and miso soup is becoming a part of every day.I'm learning to cook a little more macro - and my mouth is watering reading your Thanksgiving menu [yummy].Do you put most of your recipes together yourself - or are there cookbooks you use? It would be very much easier being vegan/macrobiotic - if there was a Gayle that lived locally - supplying meals - and monthly group meetings at restaurants. I have managed to stay vegetarian - with miso soup - but not as good as I could be. I would love to be able to cook the mouthwatering meals you put out every week - I am hoping that after the website - comes the "Cook Books" :) - and - or - franchise in Brevard County :) In closing Gayle - Thank you and Jaime again - it was lovely to meet you both - you are inspirational to me - and I'm working towards 100% macrobiotic as I continue to learn to cook in this new way - and make other lifestyle changes. My husband has lost 7 pounds this month and I have lost 3 - with our new way of eating :-)"
Very Best Wishes to you and Jaime,
Ann Plowman-Render
East Coast Framing Inc
eastcoastframinginc.com
---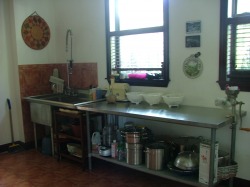 NATURAL LIFESTYLE HEALTH CONSULTATIONS / PREPARED FOOD MEAL DELIVERY MEAL SERVICE

"Hi Gayle,
Thank you very much! I am looking forward to having your food delivered, knowing that it will definitely ease the pressure of all the cooking involved in order to be healthy.
Also, I want to thank you for the consultation. Your whole approach and the way you communicated was absolutely perfect and was exactly what I needed. My husband and I have been eating the "HAPPY DIET"
DISTINCT FROM THE "SAD DIET" since Friday and I really notice a difference in how I feel. We are cooking together, cleaning up and even giving each other the body scrubs.
I really admire you for your commitment to your health and for the difference that you make for others. I was one who did not walk my talk and now it's time to do that. Also, thanks for the additional
time and information regarding the kitchen-stove-gas etc.... I am looking forward to having a gas cooktop".
B. and E. Saltzman
---
THERAPEUTIC COMPASSIONATE LISTENING

"Hi Gayle. I have some good news. For a combination of reasons, I am 3 days sober and really trying to get on the path. This has come about because of the culmination of many negative things, but also because of all your positive input and caring. I really want to have a better life and I think the timing of your input was crucial in me finally realizing that what has been missing is motivation and positive input so that I could really believe that life could be better on the other side of drinking. I am really tired of it dragging me down. I want to experience the things that you have reminded me of that are on the other side. Things I have not experienced for a very long time. Persistent clarity, a more positive attitude, stress slowly becoming less, worry becoming less, better health, more time to do fun things, more reasons to do fun things, and on and on. There is so much to think about. And I want to thank you for your support. You have said the absolute perfect things at the right time and have given me hope. You have not been preachy but caring in the most real and sincere way. You are such a caring and loving person Gayle, and damn smart too. So I cannot thank you enough for not judging me, or making me feel bad or ashamed, and really caring about what I am going through. It means more than I can ever say. You have offered me more in the time you have taken with me than anyone has in years. You have made me realize that there is a whole world out there of people who care and I have not let them. I am wound up and really determined to stay on track. Wish me luck and endurance. I don't know what comes next, but I am going to keep on trying. Lots of love and gratitude to you."

Anonymous / A Long Time Friend Of Gayle Stolove
---
Prepared Food Delivery Service (From a true non-cook)!
A Wholly Macro MasterCard Commercial from Laura


Initial macrobiotic consultation with Gayle Stolove$ 250
First week's food delivery$ 90
Watching Laura learn to use a stove,and figure out how to touch hot plates


Priceless





Just ate my first meal.

1/2 small container of brown rice.

1/2 small miso soup.

It was delicious, in spite of all the commotion of me trying to learn how to use the steamer, stove, what plates fit in the steamer, how to get hot plates out without burning my hands, do I even own a dishtowel, oh, that must be what potholders are for, how long to steam the food, etc. Now if I could only walk into a restaurant and get food like yours served to me while I relaxed. Ahhh... Meal No. 1 was GREAT.

I will continue to experiment with the other dishes.I am so happy to give my body something good for a change, instead of just eating whatever I can order at the deli.Thank you !!! To be continued..........

Laura Weiner, CPA Fort Lauderdale, FL
.
---
NATURAL LIFESTYLE HEALTH CONSULTATION / PREPARED FOOD MEAL DELIVERY SERVICE





"

I was diagnosed with ulcerative colitis three years ago, and could not eat due to the pain putting food into my body caused. I was placed on medication that gave me drug induced hepatitis, and was really sick. I had to see my gastroenterologist every two weeks not knowing what else to do. He is an amazing doctor who tried to care for me and search for answers, but my condition was not improving. In fact, it was getting worse. I was skinny, malnourished, and could not eat.

I felt that a holistic route was the way I needed to go.

On my 50th birthday, the year I was diagnosed, my brother gave me a gift of money to use for myself. I chose to see a nutritionist. We worked diligently together until I was able to eat a little bit of food again. But I still had alot of pain, was on medication, and had to see the doctor very frequently. I mentioned to her that my mother had been on a macrobiotic diet, and that I thought I wanted to try it.

In my search, I found Gayle and Jaime. And that was a major turning point in my life. I really had no idea what it was like to eat "Real Food". But as Gayle and Jaime began cooking for me, I began to trust food and my body more and more as I healed, and was elated to finally be able to eat again, pain free.

The quality of my life has been restored! I can easily digest everything. The food Gayle and Jaime prepare tastes marvelous, and I feel healthy and hopeful. Food was foreign to me at one time. Now I embrace it.

Everytime I need any encouragement or have any questions I know that I can call Gayle, and that she will always be there for me. Her kindness, compassion, and knowledge are a bright light in my life.

I cannot remember the last time I saw my gastroenterologist!

My road to a healthy digestive life is a miracle thanks to Gayle and Jaime and "Wholly Macro".
In gratitude forever,



Joan Robinson Kinzel Certified Montessori Teacher / Certified Black Belt Karate Instructor / Certified Playball Instructor
---
PERSONAL CHEF SERVICES

......."
Hey Gayle,
What exceptional food you and Jaime cooked for me!!! I just can not get over it.
I was so happy on Thanksgiving to have your food.
I felt so complete and it was absolutely delicious.
Thank you once again for having your service. It is truly a blessing.
It was the first time I did not have to stress over food.
It was really extremely tasty and I shared it with my family.
Thanks for the delicious food, all of it. And the soup, ohhhh wow!!!!
And OH MY those BROWNIES are just incredible and extremely EDIBLE.Thank you for sharing that recipe with me.I am going to bring them into work tomorrow.I am enjoying licking the bowl to the brownies!
"


Love,
Susan W. / Respiratory Therapist and Seeker of all Things Healthy
---
NATURAL LIFESTYLE HEALTH CONSULTATIONS / THERAPEUTIC COMPASSIONATE LISTENING

"My name is Louise and three years ago I discovered that I had breast cancer. I was so very lucky that the doctor caught it in a early stage. However, I was still scared and I knew that I had to hold on to my emotions or I would feel worse than I did. I had heard of Macrobiotics years ago. I didn't understand the concept but immediately I knew that that would be the route that I would pursue. But where to go and who to see was the question. Thank God for reading the macrobiotic newsletter. I was shopping at Whole Foods market and while I was waiting in line to pay my bill, I picked up the macrobiotic newsletter. Thank God that I did. For in the newsletter there was an article about Gayle Stolove. It went on to say that she had had breast cancer, and was told that she wouldn't live past six months to one year. I just felt her strength and passion burn through the page that I was reading. I immediately made an appointment to see her and although I was still so frightened, I felt so comfortable talking with Gayle. I was going to go for my radiation the week after I met Gayle She guided me through the whole process. Reviewing my diet and giving me all kinds of insight on getting over this horrid ordeal. I thought that the macrobiotic way of life would be boring and just eating rice. Well, I love the foods that I eat and I just feel good about it all. Each time that I have a worry, I contact Gayle and she immediately gets back to me with a supportive answer or action to take for whatever question that is on my mind. You see, after the surgery, you are sort of left on your own.You have to make your own decisions, etc. Everyone gives you different advice as what to eat, what to do, etc. Doctors don't understand what the patient is going through nor do they understand what kind of diet they should follow. I adopted Gayle as my guardian angel. She is there for me 24/7. You can't find that with any nutritionist or doctor. I love receiving her weekly e-mailed newsletters. They are so full of wonderful knowledge and beautiful healthy recipes. Gayle is a remarkable human being. She truly cares for her clients and gives them her all, one hundred percent of the time. Gayle has been there and therefore she is so compassionate and dedicates her life to helping people like me. I could go on and on and on. I could write a book about her. In fact, she should write one about herself. Imagine, a doctor telling her that she only had a few months to live. She is so strong in her belief about helping others through healthy living. In her newsletters, she informs everyone of what is new out there and she talks about everything that she learns to guide you to a healthy life style. Don't get me wrong., I am not brave like Gayle was. BUT, I do get what strength I have through her. "


Louise Diane. Model / Actress, Cancer Survivor, Life Survivor.
---
PREPARED FOOD MEAL DELIVERY SERVICE

"Dear Gayle,
Words cannot describe how much we appreciate the very important contribution you make to our lives. Your macrobiotic menu, prepared with organic ingredients, is the perfect balanced diet for good health and prevention of diseases. The dishes that you lovingly prepare are gourmet quality and often vie with cuisine available only in fine restaurants. Your deliveries have been coming to us like clockwork every week for the past fifteen years, expertly packaged and ready to eat -- all in all, a credit to your talent, hard work, dedication and ingenuity".
Gratefully,
Terry and Joel Stewart, ESQ.

Immigration Attorneys
Miami, Florida
---
PREPARED FOOD MEAL DELIVERY SERVICE
......."I am s-o-o-o grateful for my Wholly Macro delicious nutrition that is so fresh! Sometimes when it it is delivered to my door, I taste it immediately and have visions of finding an oasis in a barren desert. That's how much I appreciate putting the Wholly Macro nutrition into my body.
I try to cook healthy foods, but I haven't gotten to the point where I cook a lot of different macro dishes at one time. I also haven't mastered gourmet macro, as Gayle and Jaime have so elegantly. It's so healthy and delicious at the same time, like eating in a 5-Star gourmet restaurant, only a zillion times healthier. I've been eating macrobiotic on and off for 24 years (mostly on), and I've had gourmet macrobiotic food served by well-known chefs quite a few times. This is definitely the best I've ever had.
More and more people are catching on to the benefits of this kind of healthy eating, and I've been telling my friends about Wholly Macro. I'm actually going to try ordering larger quantities so that I can freeze extras and have them at my leisure when I want them, or when I'm just not up for cooking.
Wholly Macro is amazing, and truly a blessing in my life!"


Barbara O.
"A long time satisfied and well nourished Wholly Macro Client".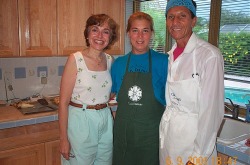 ---
NATURAL LIFESTYLE HEALTH CONSULTATIONS / ORIENTAL DIAGNOSIS

Testimonial After Diagnostic Macrobiotic Consult #1:
I just wanted to let you know how wonderful it was to talk to you the other day. I guess I had been in a slump and just speaking to you for an hour really helped to cause a shift for me and I feel a world of difference. I have been careful about my salt intake as well - It's amazing how different I feel.


Thank you so much and I can't wait for our next session!!



Testimonial After Diagnostic Macrobiotic Consult # 2


Hi Gayle,


You know, it is amazing. The hot flashes have all but stopped since I reduced my salt intake. Thank you so much for the help with my diet. And thank you so much for the cooking class also, and for the recipes. And thank you for sharing your experience with me. It was so fun to cook with Jamie, he so sweet and warm.

Susan Stimpson / Macrobiotic Breast Cancer Survivor


---
PERSONAL CHEF SERVICES

Dearest Gaylest,
Oh my God, God bless you - your food is so delicious, and that's not even the good part!
The best part, is that clearly, your energy is in the food. The squash for example has the energy of relax, it's okay to move slower! The berry dessert makes you feel energized at a blood cell level, a quiet happy feeling. Your brown and wild, wild rice made my mouth send messages to my brain of Hooray, real nutrients arriving! The salad tastes like each ingredient was individually loved into a warmer state of nourishment!
How can I be expected to sleep with so much excitement and joy waiting in my kitchen?
I love you, I'm so grateful you came into my life - you've shared so much already and really all you share is love. Thank you.
Cynthia Faye Segal
www.SixthSenseServices.com
SPINEALIGNER

"Having had my share of relationship break-ups has left me with the unforeseen need of a quality back roller. However, unlike the loving hands that can get right to those specific points, the rollers, with their rigid design have left me thinking about groveling back to my old flames. I was given the SpineAligner, which saved me from further embarrassment and kept my dignity intact! With its ingenious adjustable design, I can get to those points...alone! I highly recommend this product to anyone. It can save your dignity, and your back"

. Phiya Kushi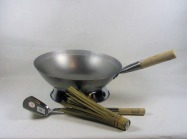 Great news: My mother went to the doctor today and based on what we told him he agreed to remove all her meds except the insulin since that is not his call as a cardiologist, but could very well be reduced when she sees her endocrinologist next week. What it means is that her regiment of 4 to 6 pills separately from the insulin pills and needles may very well turn out to be a thing of the past!!!! I am ecstatic and she can't believe it quite yet. Since starting with your food and then preparing it myself here and then really becoming acquainted with it through the macrobiotic summer conference, we are well on our way to renewal and restoration. We will both go for blood tests next week Tuesday and pending those results we'll know where we stand but for the time being she's off all the other meds. Hurray!!!!!One of those pills was for water retention in the legs and ankles but I suspect with one of the macrobiotic voodoo mixes she will be able to get what she needs. Maybe you have a good remedy? Today I purchased more basic kitchen equipment and just made some watermelon/apple kanten! Bought a new ss dimpled frying pan and steel paella pan plus a new little pot with a lid that's just big enough to do blanching for two on this three pit camping cook stove. Also bought a professional wok with ring, steel bread pan, pot tray, tempura net, spatula, etc. Mom had a really great little pot belly cast iron fondue pot that's just perfect for quick deep frying. Again Gayle, thanks so much for getting us on the path of well being.

Mother and Son, three months after their initial change to the macrobiotic diet and lifestyle
---