Mediterranean Brown Rice Paella With Roasted Dulse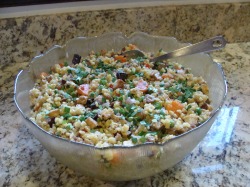 Paella Is A Beautiful, Fun, And Colorful One Dish Meal. The Complex Carbohydrates In The Rice Create Strength And Stamina. The Seitan And Tofu Provide Complete Low Fat, Low Cholesterol Protein, And The Vegetables Give Us Color, Texture, Vitamins, Minerals, Moisture, And Vitality. The Pumpkin Seeds Are Full Of Omega Rich Oils. The Sea Vegetable Is Crisp And Delicious, Reminiscent Of The Ocean, And Full Of Trace Minerals, Iron, Calcium, Iodine, And Magnesium.

Sea Vegetables Also Help Rid The Body Of Heavy Metals And Radiation Exposure From Common Items Like Cell Phones And Computers. The Green Olives Are Full Of Enzyme Rich Healthy And Naturally Fermented Good For Digestion Friendly Bacteria And Enzymes, And The Parsley Is Just Brimming With Red Blood Cell Building Fresh Green Chlorophyll!
Feel Free To Further Embellish This Recipe By Adding Your Own Favorite And Colorful Fresh Vegetables, Fresh Fish, Beans, Or Tempeh.
---
Mediterranean Brown Rice Paella With Roasted Dulse
Ingredients:
4 Cups Cooked Brown Rice – Seasoned With 1 Tablespoon Turmeric Powder
1 Red Onion - Diced
1 Cup Green Peas – Fresh Or Frozen
1 Cup Yellow Corn Kernals – Fresh Or Frozen
1 Cup Carrot
- Julienne Or "Flowers"
1 Cup Fresh Pitted Green Olives – Sliced
1 Cup Roasted Pumpkin Seeds
1 Packages Seitan – Medium Dice Unflavored
1 Package Tofu – Regular, Extra Firm, Cubed
2 Cloves Garlic – Diced - Optional
½ Cup Fresh Parsley – Chopped
½ Cup Fresh Cilatro – Chopped (Optional)
4 Tabelspoons Umeboshi Vinegar
4 Tablespoons Olive Oil
Sea Salt
1 Heaping Teaspoon Tumeric Powder – Optional
1 Cup Roasted Whole Dulse Sea Vegetable - Optional
Keep Each Item Below Separate Until Final Assembly.
Blanche The Red Onion. Drain Water Well. Cover With Umeboshi Vinegar And Let Marinate.
Blanche The Peas, Corn and Carrot separately.
To Cut Into "Flowers, Cut Out A Long Thin Strip Of Carrot Lengthwise Down The Entire Carrot Repeating Three Times Around The Carrot To Evenly Divide Into Three Nicks. Then Slice The Carrot In Round Slices. Each "Nick" Will Create An Indentation In The Round Slice That Will Resemble A Flower Pattern
.
Dry Roast The Pumpkin Seeds In A Flat Frying Pan.
Fry the cubes of tofu over medium heat in a frying pan with olive oil to coat the pan and a pinch of sea salt. Let the first side become well browned, until the tofu easily slides in the pan
before
attempting to turn.
Remove the tofu.
Brown the seitan in a frying pan with the olive oil and a pinch of sea salt.
Remove the seitan, then brown the garlic in the same frying pan.
Remove the garlic, then brown the dulse in the same pan until crispy.
Assemble:
Add Tumeric To The Rice During Cooking For Yellow Color.
Place About One Third Of The Rice In A Serving Bowl Or Platter.
Decoratively Arrange About One Third Of Each Of The Other Ingredients Over The Rice.
Place Another Layer Of Rice And Ingredients, Repeating And Ending With The Remaining One Third Of The Other Ingredients On The Top.
Garnish With Dulse, Fresh Parsley, And Green Olives, And Serve.