Basic Brown Rice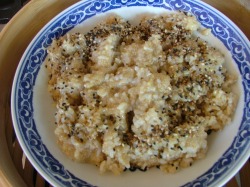 Brown rice is the most balanced whole grain, and serves as the basis for many other recipes, so it is important to learn to cook it properly. It is a complex carbohydrate, full of slow burning and long enduring fuel for our mind and body.
It repairs metabolism and balances blood sugar.
Soaking it before cooking brings it to life, encouraging it to begin germinating and sprouting, and bring it's live and vital energy into our bodies.
Chew the rice well to release it's energy and promote proper digestion.
---
Basic Brown Rice
Ingredients:
1 cup short or medium grain brown rice – rinsed well and soaked for 6-8 hours or overnight
2 cups spring water (1 ½

cups for a drier finished product)
1/8 teaspoon sea salt
1 inch piece of kombu sea vegetable cut into slivers
Recipe:
Place brown rice and spring water in pot, uncovered, and soak.
After soaking, place on stove on medium heat and bring to gentle boil.
Use a skimmer to skim off any foam for about 5-10 minutes.
Turn heat down to low simmer.
Add salt and slivered kombu and cover pot.
Continue to cook for an additional 45 minutes or until all water is absorbed.
Gently fluff with chopsticks.
Garnish with toasted sesame seeds and chopped parsley before serving.