Fillo Pastry Puffs with Seitan and Olive Tapenade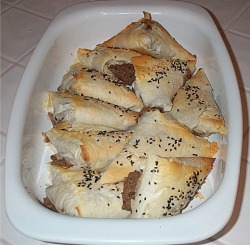 The seitan and lentils provide generous amounts of lowfat, low cholesterol, mineral rich protein. The walnuts provide omega fatty acid rich, vitalizing energy that nuts contain in order to grow a tree from their tiny seed. The yellow onions add a naturally sweet flavor, nourishing the pancreas, and thus providing a relaxing energetic quality to the dish, and the organic black olives just clinch the essence of a Mediterranean tapenade, while providing digestion promoting natural and healthy fermented enzymes.
---
Fillo Pastry Puffs with Seitan and Olive Tapenade
Ingredients general:
Fillo pastry – 1 box
Toasted wheat germ – 1 cup
Fresh chives – diced – 1 cup
Extra virgin olive oil – cold pressed – one jar
*pastry brush
Advance preparation:
If cooking beans from scratch:
Rinse one cup of dry lentils 2-3 times, until rinse water is clear.
Soak rinsed lentils in 2 cups of spring water for anywhere from 2 hours, up to overnight.
Discard soaking water, then cook the lentils in 2 cups of fresh spring water, and a ¼ inch piece of kombu sea vegetable, covered, at a low simmer, for approximately 40 minutes, or until lentils are very soft.
Add a pinch of sea salt to the lentils during last 15 minutes of cooking.
Or
Use canned organic lentils that have been cooked with kombu sea vegetable, to equal 16 oz!
Place the one 16 oz package, approximately 20 sheets, of natural fillo dough, which usually comes frozen, in the refrigerator for at least 2 hours, and up until over night, to allow for thawing. Keep refrigerated until two hours before actual preparation time.

Two hours before preparation time remove the fillo from fridge and let it come to room temperature.
Preheat oven to 350 degrees, and
Generously brush a large cookie sheet with olive oil.
The Tapenade
Ingredients:
1 cup green lentils, cooked (see above directions)
1 cup walnuts, roasted
1 one pound package of seitan, browned in a lightly oiled frying pan
½ cup organic black olives, pitted
1 large yellow onion, diced and caramelized in 1 tablespoon of olive oil in same frying pan used for the seitan
2 cloves garlic, diced and caramelized with the onion (optional)
1 tablespoon balsamic vinegar
1 tablespoon shoyu soy sauce
Pinch of dried rosemary or herbs de provence (also optional)
1 cup fresh basil rinsed and chopped
To prepare:
Strain lentils, and reserve leftover liquid.
Add lentils, walnuts, seitan, olives, fresh basil, and yellow onions to a food processor and pulse to a medium coarse consistency, adding reserved lentil cooking liquid and additional spring water as needed to achieve a thick pate like consistency, thick enough to hold it's shape, yet pureed enough to easily mold to the folded fillo pastry shape.
Add balsamic vinegar and shoyu during the final pulse stage.
Add garlic and herbs de provence if desired.
Do not overblend. Add the liquid in small amounts to maintain thick consistency!
The fillo preparation:
Place one cup of olive oil in a bowl, and have a clean pastry brush ready for use with it.
Place one cup of toasted wheat germ in a bowl.
Prepare a large clean counter or cutting board space.
Remove the fully thawed package of fillo from the package, lay it out flat.

Cover it with a piece of saran wrap or damp dish towel if it becomes dry while working.
Remove two pieces of fillo dough from the pile, lay them out flat on the counter/cutting board, and lightly brush them with the olive oil, then sprinkle them with a few tablespoons of wheat germ.
Using a clean kitchen scissor, cut the fillo into 5 equal strips vertically.
Place about 1 or so large tablespoons of the tapenade filling onto each of the fillo strips, at the end closest to you. Do not over fill.
Begin folding the fillo strip in "flag fashion", one end over the other, again from the end closest to you, rotating from side to side, to create a triangular shaped fillo pastry, with the tapenade filling completely enclosed.
Place each finished pastry onto the oiled cookie sheet, generously brushing the top of each pastry with olive oil, and sprinkling it with the toasted wheat germ.
Repeat this process until the fillo or the tapenade runs out. The leftover fillo can be refrozen, and the tapenade can be used as a dip, a pate, or a bean dish to accompany a meal!
Bake in the oven for 20-30 minutes until the tops are well browned and the fillo pastry has puffed up into the triangular shaped seitan and olivive tapenade filled, fillo pastry puffs.
Garnish with fresh chives.
Best to serve immediately, but can be reheated in oven or oil brushed frying pan to crisp up before serving.