TOFU "CHICKENLESS" SALAD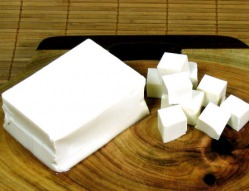 This tastes so close to the real thing, and is so much healthier, that it is one of those head scratching questions: why settle for the unhealthy version, when this healthy version is so much better?? Calcium and protein rich chunks of tofu are pan fried, then tossed with naturally diuretic crisp green celery, blanched bright red onions, gorgeously orange carrots, rich good for the liver bitter green escarole, flavorful fresh basil, chlorophyll rich fresh green parsley, naturally fermented live enzyme rich pickled cucumbers, toasted almond slivers, and a creamy lemon, acid/alkaline balancing umeboshi plum, mustard, and tofu "mayonnaise".
---
Ingredients:
1 lb organic extra firm tofu –drained and cubed
pinch of sea salt
1 Tlbs unrefined organic sesame oil
2 stalks organic celery – thinly sliced on the diagonal
2 cups spring or filtered water
1 organic red onion – large dice
2 organic carrots – sliced on the diagonal or in carrot flowers
1 head organic escarole – shredded
4 organic natural pickled cucumbers – home made or jar - diced
½ cup slivered almonds
¼ cup chopped fresh basil
¼ cup chopped fresh parsley
1 Tlbs umeboshi plum vinegar
3 to 4 tablespoons tofu mayonnaise
Place sesame oil in a frying pan and heat to high heat, but do not let it smoke. Drop tofu into frying pan, being sure that a flat surface of each piece of tofu comes into contact with the frying pan. Sprinkle with the pinch of sea salt, and let it cook for 15 minutes, until bottom surface is well browned, and it does not stick to pan. Carefully turn each piece of tofu and allow all sides to brown. Remove from pan and set aside.
Bring two cups of water to boil in a sauce pan. Drop carrots into boiling water for three minutes, then remove with a fine mesh strainer and set aside.
Drop red onions into boiling water for two minutes, then remove with a fine mesh strainer, place in a shallow bowl, cover with umeboshi vinegar, and allow to marinate for several minutes.
Dry roast slivered almonds in a dry frying pan for several minutes until light golden brown. Remove from pan.
To assemble the salad

:
Toss the celery, pickled cucumber, escarole, basil, and parsley together. Add the carrots, and tofu cubes tossing gently so as not to break them. Drain the red onions and add them tossing gently. Drizzle the tofu mayonnaise throughout. Garnish with roasted almonds. Serve as is, or toss slightly before serving and enjoying!