Natural Lifestyle Health Consultations
Confidential Compassionate Listening Consultations
Natural Lifestyle Consultations


An initial in person consultation with
Gayle lasts an 1-1/2 hours.

Follow-up consultations
are provided.
Consultations are also available by phone.



PLEASE NOTE: A Therapeutic Compassionate Consultation does not go over the basics of the Macrobiotic diet and Lifestyle.

Confidential Compassionate Listening Consultations


Compassionate Listening Consultations
are combined with oriental medicine based diagnosis and techniques for diet and lifestyle to promote health and vitality.

Through diagnosis of emotional and physical manifestations of individual or combined organ health, Therapeutic Compassionate Listening Consultations are proactive and effective.

LET GAYLE GUIDE YOU, EDUCATE YOU,
AND SUPPORT YOUR TRANSFORMATION

For Prices Click Here.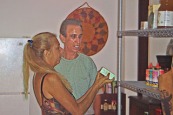 Through Gayle's consultations you will learn powerful life changing and often life saving information about natural dietary and lifestyle techniques designed to balance your body, mind, and spirit in such a way as to restore health and facilitate well being. Gayle is a cancer survivor and registered nurse who has vast amounts of both life experience and Western and Oriental medical training. She is a graduate of the Kushi Institute Program and continues her advanced education as an ongoing student of Oriental Medicine and Macrobiotics at the Kushi Institute, the premier internationally acclaimed macrobiotic educational facility. ..

Health consultations offer compassionate and therapeutic listening related to any and all emotional issues, combined with oriental medicine based visual diagnosis, and information on selecting, balancing, varying, and preparing natural foods in a practical way based on your individualized essential nutritional and health related requirements, utilizing an in depth understanding of the food component of oriental medicine to strengthen organ function in order to improve health.
---
It is becoming more and more obvious that health care is an industry, not an art as it was originally.It is a for profit industry that focuses on treatment of illness once it manifests, not on prevention. Oriental diagnosis can detect imbalances within the body in healing itself of chronic and terminal major health issues in complement with other more mainstream medical approaches, often filing in the gaps left by western medicine. Very often, simple changes in diet and lifestyle are the missing link between regaining health and vitality, or succumbing to the illness. Gayle is living proof of the effectiveness of this approach. Rather than getting caught up, bogged down, and dependent on the current health care industry, empower yourself with knowledge and take charge of your life in a positive way via a natural lifestyle health consultation.
For more information about our Consultations please see our
FAQ'S
page.
---
Here's what one of our clients have said about the Natural Lifestyle Consultation

"
I was diagnosed with ulcerative colitis three years ago, and could not eat due to the pain putting food into my body caused. I had to see my gastroenterologist every two weeks not knowing what else to do. My condition was not improving. In fact, it was getting worse. I was skinny, malnourished, and could not eat.

I felt that a holistic route was the way I needed to go.In my search I found Gayle and Jaime. And that was a major turning point in my life. As Gayle and Jaime began cooking for me, I began to trust food and my body more and more.The quality of my life has been restored! can easily digest everything. The food Gayle and Jaime prepare tastes marvelous, and I feel healthy and hopeful. Every time I need any encouragement or have any questions I know that I can call Gayle, and that she will always be there for me. Her kindness, compassion, and knowledge are a bright light in my life.I cannot remember the last time I saw my gastroenterologist!

My road to a healthy digestive life is a miracle thanks to Gayle and Jaime and "Wholly Macro".

...

.

Here is what one of our clients have said about the Compassionate Listening Consultation

....."And I want to thank you for your support. You have said the absolute perfect things at the right time and have given me hope. You have not been preachy but caring in the most real and sincere way. You are such a caring and loving person Gayle, and damn smart too.

So I cannot thank you enough for not judging me, or making me feel bad or ashamed, and really caring about what I am going through. It means more than I can ever say. You have offered me more in the time you have taken with me than anyone has in years. You have made me realize that there is a whole world out there of people who care and I have not let them.

I am wound up and really determined to stay on track. Wish me luck and endurance. I don't know what comes next, but I am going to keep on trying......

Here are two consecutive testimonials from a
Natural Lifestyle
Consultation client :


Testimonial After initial consult
......

." I just wanted to let you know how wonderful it was to talk to you the other day. I guess I had been in a slump and just speaking to you for an hour really helped to cause a shift for me and I feel a world of difference. I have been careful about my salt intake as well - It's amazing how different I feel
.
Thank you so much and I can't wait for our next session!! "
Testimonial After follow-up consult
......."You know, it is amazing. The hot flashes have all but stopped since I reduced my salt intake. Thank you so much for the help with my diet. And thank you so much for the cooking class also, and for the recipes. And thank you for sharing your experience with me. It was so fun to cook with Jamie, he so sweet and warm."