About Wholly Macro

WHOLLY MACRO HELPS PEOPLE!
It is what we love to do!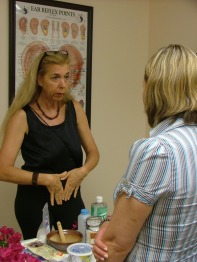 This is what our business and website is all about. Macrobiotics is about way more than just food. It is an entire way of life , and a great one at that. And always, there is more involved in any type of illness/imbalance, than diet and lifestyle alone. There is the entire emotional component. Emotional issues make us physically sick. A physically sick person cannot heal if they don't also heal their emotions.

| | |
| --- | --- |
| | In macrobiotics, and oriental medicine, every organ of the body corresponds to a meridian, and those meridians connect us to the universe. We can only be at one with the universe and ourselves, be at peace, if our meridians are clear. They become clear-er when we eat pure healthy food along with exercise, yogic breathing, massages and acupuncture, etc. And each organ/meridian (per Oriental Medicine), relates to a season of the year, a corresponding emotion, a corresponding color, etc. |

Certain foods make an imbalance in an organ worse. Certain foods help nourish and heal the organ, meridian, and related emotion . Most people have minor imbalances in a few organs, but with proper diet, and other healthy practices, these organs/ emotions can heal, most of the time clearing up these minor imbalances and/or stopping a minor imbalance from becoming a major problem.

We at Wholly Macro educate, inspire, and encourage a healing lifestyle through the practice of eating and living according to your life's purpose. Our greatest hope is that with our help you will find good health, peace, and happiness and that we can all benefit from seeing you progress to becoming a more complete person, the whole healthy person you are all meant to be!

Click on Who We Are and How We Began to learn more about Wholly Macro.
Here's some people who we have cooked for that you might know:

Alicia Silverstone

Monty Silverstone (father of Alicia and also an accomplished actor)

Andy Garcia and family

Robin Gibb and the BeeGee's

Keenan Wayans

Steve Raitt - brother of Bonnie Raitt

Rav Berg of the Kaballah Center
Please enjoy the rest of our website as you learn about how YOU can reach

your
utmost health potential.

Contact us at 954.764.6371 or
whollymacrogayle@gmail.com
If you would like to receive our interesting and informative weekly newsletter and weekly natural foods delivery service menu, please request to be added to our e-mail list.