Jaime's Famous Brown Rice Pancakes (Crepes)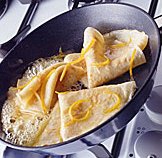 Jaime came up with this recipe in the wholly macro kitchen while searching for some healthy varieties of breakfast foods. We also began munching on these delicious "pancakes" for snacks, and began to attract the attention of many interested "customers". Good food draws all sorts of customers to it!
Now we always include this recipe in our basic cooking class, because it is fun, easy, delicious, and exceptionally healthy and nutritious.
Any cooked grain can be used. Be creative. Add dried fruit or nuts into the batter. Roll the pancake around your favorite topping. Garnish freely. Leftover pancakes can be reheated in dry skillet.
---
Jaime's Famous Brown Rice Pancakes (Crepes)
Ingredients:
2 cups cooked brown rice – cooked on the dry side is best
1 tablespoon regular sesame oil
1 teaspoon cinnamon powder
Brown rice syrup or maple syrup – optional – or jam, marmelade, almond butter, or sesame tahini
Roasted nuts or seeds - optional
Recipe:
Blend rice in food processor about 30 seconds to form a thick coarse batter. Rice should not be fully pureed.
Heat oil in a small cast iron skillet the desired size of the finished pancake.
When hot, spread 1/3 cup of brown rice batter to cover bottom of pan. Should be about ¼ inch thick.
On medium low heat, let it brown on one side, lifting the edges with a spatula to prevent sticking. When first side is fully cooked, (moves freely in pan without sticking) flip and let other side brown, lifting the edges again. Pancake is done when second side slides freely in pan, and will be brown on the outside and soft in the center.
Remove from pan and repeat process with remaining batter.
Dust with cinnamon, nuts, seeds, jam, almond butter, and / or syrup before serving.