Seitan, Sweet Potato, and Snap Pea Kimpira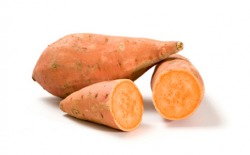 Kinpira is a traditional macrobiotic dish revered for the strengthening qualities that are related to the carrot and burdock root vegetables, and to the high heat sauté method of cooking. Burdock root is a blood cleanser. It has the ability to cleanse and purify the blood thereby strengthening it. And it is also a powerful root vegetable that will plow its way down through the earth, splitting rocks as it grows. It gives us that strength when we eat it. Lotus root is the other star of this show, when sliced, it forms chambers that mimic the chambers of the lungs, and help to open up the airways, bringing fresh oxygen and vitality to our entire system. The fresh ginger stimulates our circulation. All are highlighted by the bright orange beta carotene rich sweet potatoes, and the crispy freshness of the blanched snow peas, complimented by the protein rich flavor of the seitan to bring you a colorful plate of fall perfection.
---
Seitan, sweet potato, and snap pea kinpira
Ingredients:
2 cups seitan – julienne slices
2 cups sweet potato – julienne slices
2 cups snap peas – whole - blanched
2 cups carrots – julienne slices
2 cups burdock – julienne slices
1 cup fresh or dried lotus root
¼ cup fresh ginger – chopped
1 tablespoon regular sesame oil
1tablesppon toasted sesame oil
1 tablespoon soy sauce
Recipe:
Heat a large frying pan with regular sesame oil.
Add carrot and a splash of soy sauce and saute over medium high heat until just tender. About 5 – 10 minutes.
Repeat with burdock root.
Remove from pan.
Add lotus root and cook until well browned. Add more oil if needed. Remove from pan.
Add seitan and a splash of soy sauce and cook until well browned. Remove from pan.
Add sweet potato and another splash of soy sauce. Cook until tender. Remove from pan.
Saute ginger. Turn off heat. Add toasted sesame oil.
Layer all vegetables together on a serving platter with the blanched snap peas and toasted sesame oil and ginger mixture, and serve.