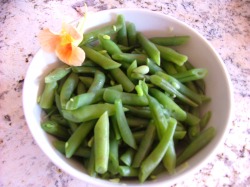 ---
CORN AND DULSE MISO VEGETABLE CHOWDER
A light yet hardy array of fresh and colorful dices of bright yellow corn, green peas, leek, cauliflower, yellow onion, graceful pasta like strands of spaghetti squash, beta carotene rich bright orange carrots, naturally diuretic crisp celery, mineral rich wakame sea vegetable, cleansing and relaxing shiitake mushrooms, enzyme rich barley miso, deeply purple high iron dulse sea vegetable, circulation promoting fresh ginger root, and a garnish of delicate green scallions and fragrant chive flowers.
SPANISH RICE AND QUINOA
Medium grain brown rice is cooked with the high Andes mountains Peruvian power packed grain quinoa, further mineralized with kombu sea vegetable, and tossed with tiny dices of green peas, kabocha squash, scallions, and parsley, with a final crunch provided by trace mineral packed flavorful green pumpkin seeds. Garnished with naturally fermented green olives.
SMOLDERING SOUTH OF THE BORDER REFRIED BEANS
There are nothing like beans to strengthen and recharge the kidneys. This dish uses azuki beans which are renowned for their kidney strengthening properties, cooked with mineral rich digestion promoting kombu sea vegetable, sweet red onions caramelized in barley malt whole grain sweetener, juicy chunks of liver cleansing fresh orange, aromatic and circulation promoting fresh ginger root, alkalizing umeboshi plum, and a sprinkle of fresh green chives.
CORN AND ONION SOUFFLE
Who says you can't eat soufflé anymore if macrobiotic??? This light as a feather yet packed with nutrition soufflé beats the unhealthy traditional version anytime!! Naturally sweet, and relaxing and nourishing for the stomach, spleen, and pancreas yellow onions, red onions, shallots, and leek, and sweet, cooling, crunchy, and delicious fresh yellow corn, are baked with a totally low fat yet rich tasting, high protein and high calcium tofu and tahini mixture flavored with the tanginess of alkalizing and digestive umeboshi plums, live enzyme rich yellow miso, and fresh dill, and garnished with fresh from the garden chlorophyll rich green chives.
FRENCH CUT GREEN BEAN KINPIRA ALMONDINE
Graceful french cut green beans, are lightly stir fried with blood cleansing and generally strengthening fresh burdock root, beautiful beta carotene rich julienne carrots, good for the stomach and pancreas rutabaga, circulation stimulating fresh ginger root, a touch of flavorful toasted sesame oil and shoyu soy sauce, and a crunchy garnish of calcium rich ligthly roasted almond slivers.
WHOLLY MACRO CAROB BROWNIES
A rich and fudge like blend of whole wheat pastry flour, vitamin E rich sunflower oil, naturally sweet brown rice syrup, molasses like barley malt sweetener, amasake brown rice milk, calcium rich sesame tahini, organic naturally caffeine free carob powder, grain coffee ( roasted barley, chicory, and rye), walnuts, delectable grain sweetened dairy free carob chips, and subtle undertones of vanilla and orange, make these healthy brownies truly unforgettable!! Like us, we hope!!!
VIRTUALLY ALL INGREDIENTS ARE ORGANIC
CLICK HERE FOR MORE SAMPLE MENUS-WINTER