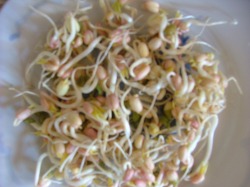 ---
CORNUCOPIA

MISO VEGETABLE CHOWDER
A light yet hardy array of fresh and colorful dices of bright yellow corn, green peas, leek, cauliflower, yellow onion, graceful pasta like strands of spaghetti squash, beta carotene rich bright orange carrots, and naturally diuretic crisp celery, in a base of mineral rich kombu, wakame sea vegetable, cleansing and relaxing shiitake mushroom, enzyme rich barley miso, deeply purple high iron dulse sea vegetable, and circulation promoting fresh ginger root broth, garnished with delicate green scallions and fragrant chive flowers.
BROWN RICE AND FRESHLY SPROUTED MUNG BEANS

Medium grain brown rice is cooked with mineral rich and digestive kombu sea vegetable, then delectably spiked with the vibrant, yet light energy of liver healthy sprouted mung beans, omega fatty acid and trace mineral rich lightly roasted sunflower seeds, chlorophyll rich fresh green parsley, and a sprinkle of calcium rich and energizing freshly ground sesame gomashio.
WHOLLY MACRO'S FAMOUS BARBECUED "HOME MADE" SEITAN
Anyone who has ever made or tasted seitan made from scratch will appreciate how special this dish is. Seitan is basically pure protein, with lots of naturally occurring minerals, and virtually no fat. It has a wonderful chewy texture to it, and is very versatile. In this dish it is braised in a yellow onion, almond butter, mustard, brown rice syrup, shoyu, and barley malt "barbecue" sauce, then garnished with fresh chives. Very unique and delicious.
BLACK EYED PEAS MARINARA (AKA SWEET VEGETABLE JAM)
A pleasing combination that we stumbled upon here in the Wholly Macro kitchen, rich and flavorful mineral and protein rich black eyed peas, additionally mineral enhanced and made more digestive by the presence of kombu sea vegetable, are tossed in a beta carotene rich butternut squash, carrot, and yellow onion "marinara" sauce, also known as "sweet vegetable jam". Sweet vegetable jam is excellent for relaxing a tight pancreas that has been overworked by the consumption of too much simple sugar, and also satisfies cravings for sugar. Lightly garnished with a glitter of fresh chives to finish.
BROCCOLI AND RUTABAGA NISHIME WITH SHIITAKE KUZU GLAZE
Juicy, bursting with flavor and nutrition rich green broccoli florettes, are highlighted with bright orange beta carotene rich julienne carrots, and mineral rich and strengthening rutabaga, then draped in a healthful glaze of cleansing and relaxing shiitake mushrooms, cremini mushrooms, circulation stimulating ginger root, naturally sweet, stomach and pancreas supporting yellow onions, intestinal and digestion strengthening, naturally alkalizing kuzu root, and shoyu soy sauce.
STRAWBERRY SHORTCAKE

The most delicious and understated dessert, a delicate and light cake made of whole wheat pastry flour, brown rice syrup whole grain sweetener, and natural vitamin E rich sunflower oil, is filled with fresh, juicy, and succulently sweet strawberries layered between rich dollops of healthy, low fat, tofu "whip crème", topped with another layer of cake, and garnished with rice syrup glazed crunchy and calcium rich sliced almonds.
VIRTUALLY ALL INGREDIENTS ARE ORGANIC

CLICK HERE FOR SUMMER SAMPLE MENUS