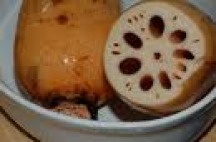 SUMMER SAMPLE MENU





TARO AND LOTUS SEED MISO VEGETABLE SOUP
Strengthening and nourishing for the middle part of the body, the stomach and spleen / pancreas organs, taro root forms a light and creamy soup base, cooked along with kombu sea vegetable for minerals and digestion, naturally sweet, strengthening and vitalizing lotus seeds, crispy fresh bright green snap peas, beta carotene rich orange carrots, naturally diuretic and cleansing fresh daikon, yellow onions, immune system strengthening shiitake mushrooms, live enzyme rich mild yellow miso, and a garnish of fresh scallions. A super healthy soup!
BROWN RICE AND TEFF
Medium grain brown rice, the perfectly balanced and most complete source of complex carbohydrates, is complimented in this dish by whole grain teff, an heirloom ancient African origin whole grain that adds a delightful texture to the brown rice, as well as beneficial vitamins and minerals. Teff is compact, imparting powerful yet light energy. It won't weigh you down. They are cooked with kombu sea vegetable for additional mineral enrichment, then tossed with omega three and vitamin E rich lightly toasted sunflower seeds, and fresh green blood building and iron rich parsley.
GRILLED TEMPEH WITH ORANGE UMEBOSHI MARINADE
Tempeh, is a brilliant way to consume protein, which is ordinarily a heavy type food, and soybeans in their "bean" form can be a bit hard to digest for those with weak digestive systems. Tempeh on the other hand, is a fermented/pre-digested form of soy beans, very easy on the digestive system, promoting better digestion of food and therefore better absorption of nutrients such as the rich omega 3 oil and low fat, high protein naturally occurring in soybeans. This tempeh is a soybean and whole grain blend. Bite sized cubes, are marinated in circulation stimulating fresh ginger juice and shoyu soy sauce, then coated with arrowroot to form a paper thin crust, marinated in a naturally sweet, liver cleansing fresh orange and tart, alkalizing, and enzyme rich umeboshi plum marinade, then garnished with liver relaxing and energizing scallions. Cubes of pancreas healthy rutabaga compliment this dish.

PENNE PASTA AL RAGOUT

Brown rice penne pasta, are luxuriously draped with a thick and rich "cheesy" low fat and low cholesterol high in protein and calcium tofu, sesame tahini, enzyme rich yellow miso, and umeboshi plum ricotta like sauce, that is mixed with a colorful marinara of beta carotene rich bright orange carrots, sweet and delicious butternut squash, yellow onions, and bright green dices of zucchini, garnished with flavorful fresh basil, and red blood cell building fresh green parsley sprigs.
SPROUTED MUNG BEAN SAUTE
A high energy saute of freshly sprouted enzyme rich, good for the liver, green mung beans, tossed with slivers of sweet yellow onion, julienne carrots, fresh and crispy celery, sweet, bright, and sunshiny yellow squash, cremini mushrooms, blood cleansing fresh burdock root, fresh green scallions, good for the lungs fresh lotus root, and circulation stimulating fresh ginger.
CAROB CHERRY TRIFLE

A trifle is a cake, fruit, and whip crème layered dessert. Delicious, but traditionally not especially healthy except for maybe the fruit, but our version is, of course!!! The cake is a whole wheat pastry flour, sunflower oil, and brown rice syrup batter, layered with rich and creamy high calcium, low fat tofu and almond whip crème with subtle hints of vanilla, phyto nutrient rich deep red cherries, and a carob fudge sauce that is rich, delicious, natural, and naturally caffeine free.
VIRTUALLY ALL INGREDIENTS ARE ORGANIC

Click here for Fall Sample Menus
---