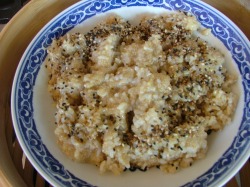 SPRING SAMPLE MENU

---
LENTIL DILL MISO VEGETABLE SOUP

Thick, rich, and flavorful green lentils are cooked with mineral rich and digestion promoting kombu sea vegetable, then delectably spiked with diced carrots, celery, yellow onions, fat busting and naturally diuretic fresh daikon, all in an intestinal enzyme friendly barley miso, shiitake mushroom, and wakame sea vegetable base, that is garnished with fragrant fresh dill.
MULTI SEEDED BROWN RICE AND MILLET PILAF
This is quite simply, a good for you whole grain mixture, incorporating the stable balance of medium grain brown rice, and the moist and plump, good for the stomach and pancreas energy of whole grain millet, cooked with kombu sea vegetable, then "seeded" with omega three trace mineral rich pumpkin and sunflower seeds, and deeply cleansing on a cellular level black and brown sesame seed gomashio, finished with a garnish of chlorophyll rich red blood cell purifying fresh green parsley.
BAKED TOFU WITH KOMBU LEEK SAUCE
Delicious high protein, low fat pieces of tofu, are marinated with naturally fermented shoyu soy sauce, baked to nice brown flavorful perfection, then draped with a sauce of brightly sauteed leek, slivers of naturally chelating kombu sea vegetable, good for the stomach and pancreas yellow onions and green cabbage, magically medicinal shiitake and cremini mushrooms, and circulation stimulating fresh ginger, cooked in their natural juices, and thickened with digestion strengthening and alkalizing kuzu root.
SPELT PENNE WITH SEITAN AND

BLACK OLIVE TAPENADE

Spelt, an ancient Roman grain that promotes liver health, is the base of these penne noodles, that are delicately draped in a flavorful Mediterranean tapenade made from a coarse puree of naturally fermented and live enzyme rich black olives, pungent and flavorful capers, lightly roasted walnuts, protein rich seitan, and lots of flavorful and chlorophyll rich fresh basil and parsley.
SICILIAN SWEET POTATO SALAD

Sweet, cooling to the body, beta carotene rich brilliant orange sweet potatoes, are combined with a real healthy mix of root vegetables such as mineral rich turnips and rutabaga, bright green french cut green beans, yellow wax beans, umeboshi plum marinated red onions and red radish, intestinal flora friendly pickled cucumbers, and a splash of olive oil and liver cleansing lemon zest, to create this exciting and healthful "potato salad".
CREAM OF PARSNIP PIE
Naturally sweet and ever so subtly cinnamon-y, relaxing and good for the spleen/pancreas fresh parsnips, are pureed with amasake brown rice milk, silken tofu, calcium rich sesame tahini, intestine strengthening kuzu root, fiber rich agar agar sea vegetable, a hint of full bodied roasted and flavorful grain coffee (roasted barley, roasted chicory, roasted rye), brown rice syrup sweetener,

and a hint of sultry vanilla and orange zest, to form a light and delicate filling for this rich and delicious pie. Baked in an oat and almond crust, and topped with light and fluffy protein and calcium rich tofu whip crème. Trust us. It is delicious.
VIRTUALLY ALL INGREDIENTS ARE ORGANIC
CLICK HERE FOR MORE SPRING SAMPLE MENUS