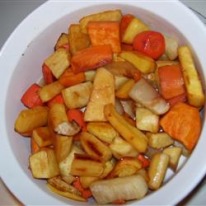 ---
MINESTRONE MISO SOUP
A rich full bodied macrobiotic version of the Italian classic, using a variety of mineral rich and kidney strengthening beans: black, white, and chick peas, combined with bite sized dices of carrot, celery, yellow onion, sweet and fragrant fennel, bitter green liver cleansing arugula, brown rice chiacciole noodles, (the coolest little round, hollow noodles that allow little items like beans to float through them!), flavorful and decorative cremini mushrooms, energetically relaxing, cleansing shiitake mushrooms, wakame sea vegetable, barley miso, and a sprinkling of fresh green chlorophyll rich Italian parsley.
BROWN RICE AND SPELT WITH SWEET VEGETABLE JAM
Delicious grains of medium brown rice are cooked with mineral rich kombu sea vegetable, and good for the liver plump and juicy grains of whole heirloom spelt, then tossed with good for the spleen and pancreas dried apricots, and trace mineral and vitamin E rich lightly roasted sunflower seeds that are draped with a very healing and relaxing for the stomach, pancreas, and blood sugar levels sweet vegetable jam made from kabocha squash, carrots, and yellow onions. Garnished with brilliantly rich and green blood building parsley.
SESAME SEARED TEMPEH

Tempeh is a brilliant way to consume protein. It is a fermented form of protein that is very easy on the digestive system, promoting better digestion of food and therefore better absorption of nutrients. This tempeh is a soybean and wild rice blend. Bite sized cubes, are marinated in circulation stimulating fresh ginger juice, then coated with calcium rich brown and black sesame seeds and arrowroot, to form a paper thin crust, and served with alternating cubes of strengthening and grounding, sweet and mineral rich rutabaga. Garnished with liver relaxing upwardly energetic scallions.

BISTRO PASTA PORTABELLO
Brown rice bowtie noodles, such fun to look at and to eat, and healthy too, are tossed with juicy portabello mushrooms, uniquely flavorful shiitake mushrooms, some cremini mushrooms, naturally fermented and enzyme rich black olives, bitter green mineral rich kale, lots of chlorophyll rich fresh parsley, vitalizing pine nuts, and organic capers, for a perfect, warm or cool, light and flavorful anytime pasta dish.
ROASTED ROOT VEGETABLE MEDLEY
A colorful blend of assorted strengthening and stabilizing root vegetables: beta carotene rich carrots, naturally sweet and subtly spicy parsnips, mineral rich turnips, dark green iron rich brussels sprouts, and blood strengthening and cleansing fresh burdock root, roasted with a touch of toasted sesame oil and fresh ginger to bring out their natural sweetness, and garnished with bright green chives.
SWEET POTATO PIE WITH TOFU WHIP CRÈME

Deep orange beta carotene rich flavorful sweet potatoes, are subtly blended with cinnamon and nutmeg, then blended with naturally fermented amasake brown rice milk, very high in fiber / good for the large intestine agar agar gelatinous sea vegetable, unprocessed arrowroot natural thickener, calcium rich sesame tahini, and the gentle sweetness of complex carbohydrate derived brown rice syrup, on a crust of caramelized rolled oats and calcium rich almonds, topped with luscious dollops of rich and creamy vanilla scented tofu whip crème.
VIRTUALLY ALL INGREDIENTS ARE ORGANIC
CLICK HERE FOR MORE WINTER SAMPLE MENUS