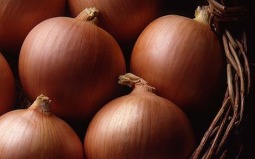 ---
FIVE ONION
MISO SOUP WITH HERBED TOFU SOUR CRÈME
No, not five onions, but five different kinds of onion, all blended together to create this naturally sweet, creamy miso based soup. Onions, with their gentle and natural sweetness, are relaxing and nourishing to the stomach and spleen/pancreas organs. This soup uses red onion, yellow onion, green onion, leek, and shallot, blended with the classic miso soup fixtures: wakame sea vegetable for minerals, shiitake mushroom for immune system stimulation and deep internal cleansing, and rich in abundant live enzymes yellow miso, garnished with calcium and protein rich tofu sour crème and bright green chives, and finished with a subtle burst of earthy herbs de Provence.
BROWN RICE AND SPROUTED MUNG BEANS

Medium grain brown rice is cooked with mineral rich and digestive kombu sea vegetable, then delectably spiked with the vibrant, yet light energy of liver healing sprouted mung beans, omega fatty acid and trace mineral rich lightly roasted sunflower seeds, chlorophyll rich fresh green parsley, and a sprinkle of calcium, iron, magnesium and copper rich

freshly ground sesame seed gomashio.
UDON WITH GRILLED SEITAN AND SHIITAKES
Japanese spelt udon noodles, are cooked al dente, then smothered in a gravy like sauce made from protein and mineral rich grain based grilled seitan, cleansing, healthful, and nutritious grilled cremini and shiitake mushrooms, intestine strengthening kuzu root, circulation promoting fresh ginger root, stomach and pancreas supportive naturally sweet yellow onions, shoyu soy sauce, and a garnish of bright green and lively, liver healthy fresh green scallions.
MASHED SWEET POTATO AND PEARS WITH CRANBERRY KUZU GLAZE
Beta carotene rich brilliant orange sweet potatoes are lightly steamed, then mashed into a deliciously sweet puree that is spiked with sweet and succulent fresh pears, then glazed to perfection with a digestive strengthening kuzu, kidney healthy fresh and dried cranberry, and circulation promoting fresh orange ~ ginger glaze, melding an amazingly sweet, subtly spicy, magenta and orange

blend of organ and health enhancing flavors. Garnished with chlorophyll rich fresh green parsley.
MIXED

ROOT VEGETABLE NISHIME WITH PEANUT SAUCE
Pure white potassium rich and naturally sweet parsnips, calcium and iron rich deep green broccoli florettes, light orange mineral rich and good for the stomach rutabaga, purple turnips, flavorful mouthfuls of mineral rich and lung/large intestine supportive fresh lotus root, and bright orange beta carotene rich bites of delectably sweet kabocha squash, are steamed to juicy perfection, then topped with a high protein / high mineral, fresh peanut, sesame tahini, alkalizing and digestive umeboshi plum, and shoyu sauce.
CHESTNUT AND APRICOT MOUSSE CAKE
Refreshing, creamy rich, naturally sweet, full of protein, low in fat, and good for the spleen / pancreas, chestnuts, are mixed with grain coffee (roasted barley, roasted chicory, and roasted rye), tofu and amasake, to form generous dollops of naturally and gently sweet mousse, which is layered between an apricot and kuzu glazed whole wheat pastry flour and brown rice syrup cake. A super healthy and full of nutrient dense foods dessert dish.
VIRTUALLY ALL INGREDIENTS ARE ORGANIC
CLICK HERE FOR MORE WINTER SAMPLE MENUS